History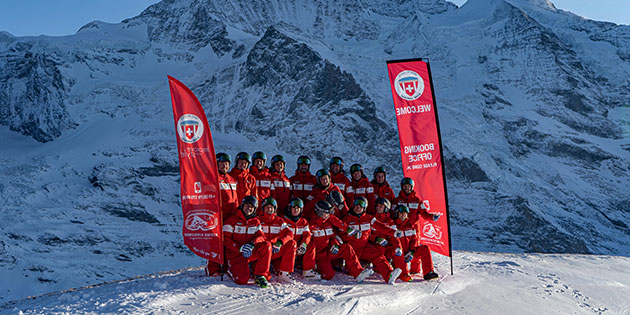 The Kleine Scheidegg ski school was established in 1935. The first ski school director was Fritz Steuri. He was a multiple Swiss Champion in the alpine ski and ski jump disciplines and was a regular participant at the international Lauberhorn downhill race. Sadly, Fritz died in 1955 while doing his job as a mountain guide.
From the years 1954 to 1975 Marcel von Allmen was the director of the ski school Kleine Scheidegg. Marcel von Allmen was a multiple winner of the Lauberhorn combination race.
In 1975, the Kleine Scheidegg ski school was taken over by Toni Wyss. For many years he and his parents have operated a sports and souvenir shop at Kleine Scheidegg. There has always been good cooperation between the sports and souvenir shop and the ski school.
To protect the sport and souvenir shop from slipping, new foundations were constructed in 1988. The resulting area is used as a lounge for the snow sports instructors and a storage room of Wyss-Sports.
In 2008 the sports and souvenir shop was taken over by Conny & Daniel Wyss and therefore remains in the family. In the summer of 2013, Stephan Rubin, Christian Füegi and Marcel "Hombi" Homberger have taking over the Snow Sports School from Toni Wyss. We three are very pleased to be operating the Snow Sports School at Kleine Scheidegg and will strive to maintain its high quality. Today there is very close cooperation between the ski school and the sports and souvenir shop. This will benefit not only us, but also our guests.
…and always up to date with teaching techniques!
---
Here are some of the well-known and famous ski instructors who belonged to the Swiss Ski & Snowboard School, Kleine Scheidegg
† Fritz Steuri, multiple Swiss champion in skiing and ski jumping
† Arnold Glatthard, multiple Swiss champion, Chief instructor of the canton Bern
† Willy Steury, Arlberg-Kandahar and Lauberhorn winner
† Marcel von Allmen, multiple combination Lauberhorn winner Initiator of the commercial summer skiing on the Jungfraujoch
† Ruedi Graf, multiple Lauberhorn downhill and combined winner
† Hans "Toscani-Hans" Graf
† Hans Brunner
† Alfred Zurschmiede, Member of the Swiss National Team, Mountain guide and later head of the Swiss Ski School Lauterbrunnen
† Hilti von Allmen, Eiger north face conqueror Winter and the first ascent of the Matterhorn north face in winter
♦ Charly Jung, ski instructor since 1962, although not continuously
♦ René Berthod, 1974 Swiss champion in the downhill in Pontresina, 1977 ranked second in the Hahnenkamm downhill in Kitzbühel. Today René is the manager of the Hotel Schönegg in Wengen.
♦ Toni Wyss, instructor since 1966. Managing Director of the Swiss Ski School and Snowboard School from 1975 until 2013
♦ Felicity "Bunny" Field, ski racer from England and has worked in the Kleine Scheidegg snow sports school since 1985. In 1968 she came 6th in the Olympic downhill in Grenoble
♦ Ulrich "Blätz" Bohren, Swiss champion in Paragliding.
♦ Ruth Geissbühler federal graduate* snowboard and Kids instructor and has worked in the snow sports school since 1990
♦ Stephan Rubin, federal graduate* snow sports instructor in skiing and ski expert kids and has worked in the snow sports school since 2007
♦ 2014 The Swiss Ski School Interlaken a subsidiary of Swiss Ski School "Kleine Scheidegg"
*Federal Graduate is the highest qualification awarded by Swiss Snow Sports specialists in Switzerland.